Parts and Accessories
Why GenuineParts?
We exclusively use Mercedes-Benz GenuineParts that are designed and engineered to meet your vehicle's exact specifications. This ensures optimal performance under the most stringent conditions for the full maintenance interval and the right fit, every time. They have been developed to deliver many key benefits to our customers, including:
Designed to fit perfectly
Built to fit Mercedes-Benz specifications
Tested on quality to ensure reliability, durability and longevity
Supported by a comprehensive 2-year/unlimited km warranty*
Genuine Accessories
Make a personal statement with your Mercedes-Benz. From alloy wheels to body styling packages, entertainment solutions to roof rack and carrier systems, Mercedes-Benz Genuine Accessories can help enhance your vehicle to perfectly reflect your individual tastes and range of interests. Backed by a two-year/unlimited kilometer warranty, Genuine Accessories are not only made to perfectly fit your vehicle, they are designed and tested as integral components during its very inception.
To explore Genuine Accessories designed specifically for your vehicle, please speak with your Parts Advisor or click here.
Lifestyle Collection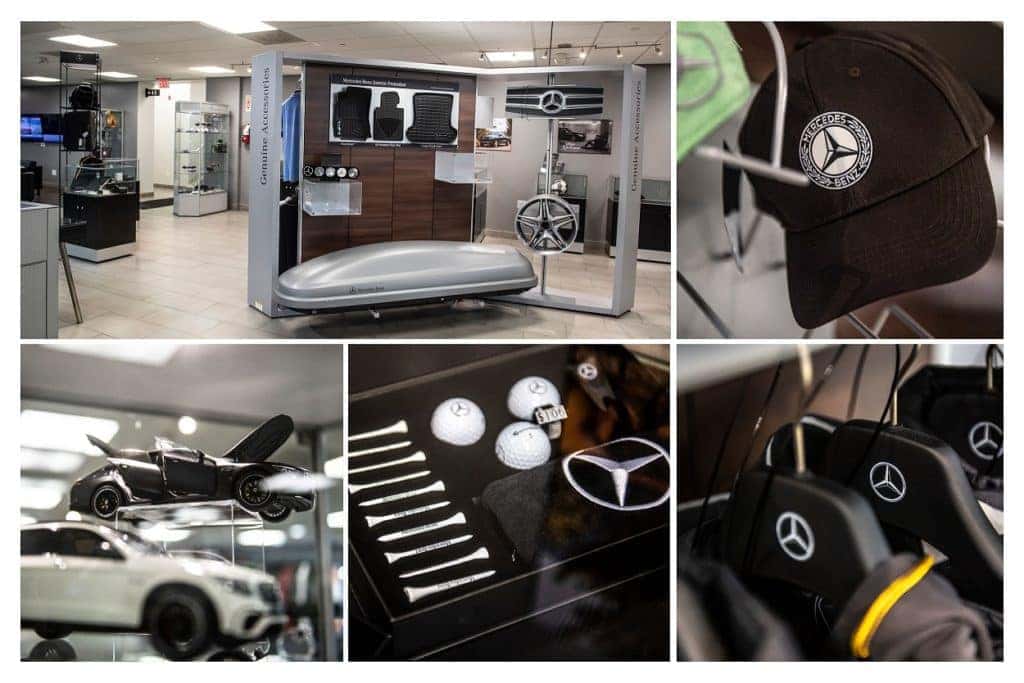 Timeless style. On and off the road. In every detail, the Mercedes-Benz Collection reflects the same devotion to perfect design and the highest quality materials as the vehicles bearing the Mercedes-Benz Star. Our collection of elegant watches, leather goods, premium fashion and sports accessories ensure an unforgettable journey with Mercedes-Benz.
To explore the Collection items offered at our store, please speak with your Parts Advisor. To explore the complete Collection, click here.
Also, to discover more about the details of each vehicle model, click here.
ApprovedTires
Mercedes-Benz ApprovedTires are measured against up to 50 parameters in the laboratory, on the test bench, on the track and at Autobahn speeds. They are only given Mercedes Original (MO) or MOExtended (MOE) designations after passing stringent tests related to handling, snow and wet road traction, noise and tread wear. Tires carrying these seals are the only ones that have been approved for optimal safety and performance, and have been specially designed for your Mercedes-Benz vehicle.
The right ApprovedTires for your vehicle are available through our Parts Department. Please speak with your Parts Advisor or click here to find the perfect tires for your vehicle.